AKA contributes to Parliamentary Review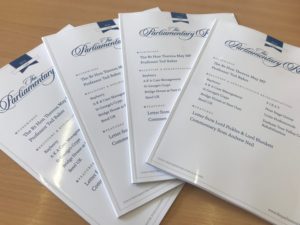 We were honoured to be invited to contribute to the Parliamentary Review on Care. This is a high-profile, national publication, which will share best practices on care with an audience of policymakers and business leaders across the country.
Our Managing Director Angela Kerr was asked if AKA would be a contributor to The Parliamentary Review on Care by Lord Pickles, former Conservative Communities Secretary.
About the Parliamentary Review on Care
The Parliamentary Review is a series of independent publications. It is co-chaired by Lord Pickles and former Labour Home Secretary Lord Blunkett. Each edition focuses on a key government policy area, with a variety of organisations sharing personal insight alongside cabinet ministers, government agencies, associations and trade bodies.
The main aims of the Review are to demonstrate how organisations have become outstanding leaders in their field. It also shares how they have responded to challenges within the industry, sharing best practice as a template for reform.
We have written in the review about AKA, how it was founded and what it aims to do, in a section of the care edition focusing on recovery and rehabilitation.
Commons Gala Invitation to launch the Review
As a result of AKA's input, Angela and Operations Manager Andrew Rose have been invited to the 2019 House of Commons Gala. Hosted by Lord Pickles, on March 28, they will meet senior politicians and leading figures from business and industry. This will further raise the profile of AKA and its unique approach to providing bespoke, community-based rehabilitation alongside care and support services.
AKA's article in the Parliamentary Review on Care
Our article in the Review highlights that a major issue within the recovery and rehabilitation sector is a lack of awareness of the range of services available for people with traumatic brain injuries. We explain that AKA, through the British Association of Brain Injury Case Managers, has joined forces with Chris Bryant MP to raise awareness of the rehabilitation prescription that is mandatory for all major trauma units. It has been developed to identify the specific needs of every individual to help their recovery, but very few people know it exists.
We also talk about the legislation that exists to safeguard people, including the Mental Capacity Act and the instigation of Deprivation of Liberty Orders, and about the work AKA is doing to help design guidelines, specifically via the National Institute for Health and Care Excellence, to evaluate the mental capacity of people with brain injuries.
Our article concludes: "By continuing to raise awareness of these services and ensuring that we serve the individual needs of our users, we are confident that we will be able to sustain the benefits we provide to all who receive our support."
Review Distribution
The Review will be distributed to a handpicked audience of more than 500,000 senior figures including MPs, Peers from the House of Lords, chief executive officers, chief information officers and procurement officers.
You can read the recovery and rehabilitation section of the Parliamentary Review online at https://www.theparliamentaryreview.co.uk/editions/2019/care