Where we work
AKA Case Management has built its reputation on providing a high quality, local service to clients and law firms from our offices in Nottingham, Birmingham, Manchester and Sheffield.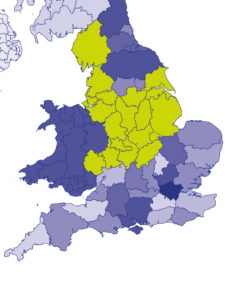 We are therefore well-placed to support people in  Birmingham, East Yorkshire, Nottinghamshire, Derbyshire, Doncaster, Leicestershire, Greater Manchester, Merseyside, Cheshire, Lancashire, Cumbria, Sheffield, Lincolnshire, Doncaster, Barnsley, Wakefield, Hull, Staffordshire, Warwickshire, Worcestershire, Northamptonshire and Herefordshire.
However, if you or one of your clients live outside of these areas, do still contact us as we may still be able to offer the specialist case management, expert advice and care that you need.
In the event that a client moves out of these regions during their case management, we will of course, continue to help and support them if they want us to.