Philip shares story at Occupational Therapist Conference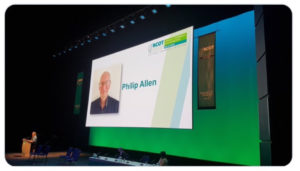 Philip Allen is a former solicitor who sustained a life changing brain injury. Philip was invited to deliver the closing plenary at the 2019 National Royal College of Occupational Therapist's conference in June.
His talk was entitled, "I'm not feeling myself today, but a change is as good as a rest". Philip shared his inspirational journey and talked about what occupational therapy means to him
He also delivered a session along side his AKA case manager, Gill Gorry, and talked about the importance of being involved in your care planning. He highlighted what Occupational Therapists can learning from listening to service-user narratives to improve client outcomes, and self-management.