Sherwood Forest has Grown in Size
On 26th February a beautiful Saturday morning…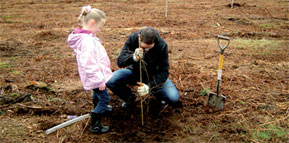 …the AKA team of Clients, Staff and their children got together to plant the trees that we had earned through our recycling programme. We are proud to announce that Sherwood Forest is now 48 trees bigger including Birch, Holly and saplings of the Major Oak, thanks to our efforts.
Everyone really enjoyed the day getting their hands dirty, digging holes to plant the trees under the watchful eye of Ian Major, Forest Ranger of the Sherwood Forest Trust. A video was taken of the event which will soon appear on our website: www.akacasemanagement.com
More photos can be seen on our facebook page too. We are well on our way to earning more trees for planting next year so keep an eye on the tree 'O' meter on the fundraising page of the website.