Puppy Progress #Toffeetales
For all those who have followed our puppy Toffee on Facebook or Twitter, she is reported to be making great progress. Now 6 months old, Toffee is proving to be a quick learner and has easily adjusted to puppy training with her socialiser Scott.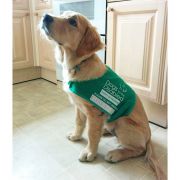 To enable her to become associated with all different sound and smells, Toffee visits many different places, including the beach and a disco. She remains completely unfazed and loves the busy days and learning. When she is finished with her training for the day, she enjoys playing with Harvey the poodle, being brushed and eating peanut butter and cream cheese. That sounds like relaxation at its best!