Pup-dates: Mavis is 14 months old!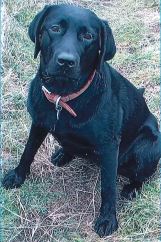 The current puppy being sponsored by AKA with Dogs For Good is Mavis. Mavis is now 14 months old it's been a busy year: DFG socialisers are tasked with caring for their puppies well-being including carrying out routine health checks; ensuring they are the correct weight and grooming. They attend monthly puppy classes to develop their training; and Vicki their puppy co-ordinator visits regularly to give tailored support, so Mavis reaches her full potential.
Her latest pup-date from Marilyn, her Socialiser shares how Mavis is enjoying her training:
"Mavis is a wonderful and very happy dog who loves company and is a joy to have around. We are very aware of how fast she is growing up and that, all too soon, she will be leaving us to go onto the next phase of her training. Her enthusiasm is infectious and uplifting and she's always ready for the next exciting adventure. Even when she is relaxing you can tell she's thinking about what she could be doing next. Mavis's favourite pastime is been out for a free run; she is friends with all the dogs in the neighbourhood. We have been to Barry Island in Wales where she loves picking up the seaweed and racing in and out of the sea; fortunately she didn't try to eat it! She has been to Swansea and all along the Gower staying in a hotel with us; she was very well-behaved and settled beautifully at night.
Mavis's recall is very good, And only occasionally-if she is playing with another dog-does it take her a few minutes to hear you calling. Mavis is very bright and loves to learn new things. She knows all the basic commands, I'll sit and wait at curbs and sit automatically in front of you when we called. She will also return to your left hand side when asked. We are working on a loose lead walking as she will still pull ahead if she thinks we are heading towards one of her favourite places. Mavis likes carrying things around and will pick things up for you if you ask, she likes doing this as she gets lots of praise and a treat as we ward. Mavis loves her food she is a Labrador after all! Her favourites or chicken and squeezy cheese was in all honesty she will happily eat anything. She loves playing with her Nina Ottoson games which test her puzzle solving abilities to release the treats."