The life and times of our dog, Sammy!
Sammy, the dog we sponsor is almost 20 weeks old now.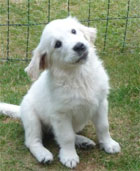 He has settled in really well with his puppy socialisers and is growing very quickly – he was just under 7kg when he arrived and now weighs 15kg!  He is losing his very furry puppy coat and growing the longer wavy hair of an adult retriever.
Sammy is a very happy, friendly puppy who enjoys meeting new people and other dogs.  He has a lovely, playful nature and is already very keen to carry and fetch things (particularly shoes if he can find them!!).
He has learnt to sit, lie down and come on command and we are now working on "stand" and "stay".  For Sammy's future socializing we hope to take him to a large supermarket store, on the bus and to try to help become less nervous of busy roads and traffic.  Sammy is growing into a very handsome dog, who is great fun to be with.
Look out for photos and an update of our visit to meet Sammy  in our next  newsletter due out in January .   You can also join Sammy's Facebook page too — search for "Sammy Le Dog" in the find a group section on Facebook.com.
You can still sponsor Sammy and purchase one of our anti-stress or happiness bags by logging on to: