The life and times of our dog, Sammy—all grown up and working!
We are so pleased and delighted to tell you that Sammy qualified recently and is now living with and helping a lady called Lyndsey.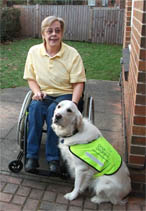 Sammy is a successor dog to Molly, which means he is taking over from her but shadowing her at the moment.  The two dogs get on great and are real pals.
Sammy now lives in Pontefract and is doing great in relation to all tasks such as emptying the washing machine, undressing Lyndsey (this is the biggest task to help Lyndsey) and retrieving articles (mainly post.)
Although Molly is retired, if she wants to do get involved with helping Lyndsey then it is allowed.  So both Sammy and Molly fetch the post one piece each, at a time!  Molly has taught Sammy to speak too which is the command they use to bark if help is needed.
We are very proud of him as he is a proper working dog now.