Jo Sims: The 4-day week changed my life!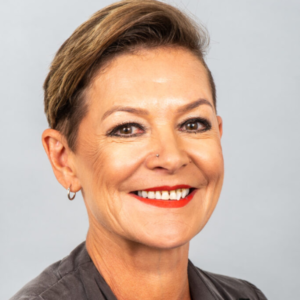 We are writing articles about our team members to show appreciation for all they bring to AKA Case Management and highlight the roles and skills that help us successfully support our clients.
Jo Sims is a Senior Case Manager and has achieved Advanced Registered Practitioner status with the British Association of Brain & Complex Injury Case Management (BABICM). She is based in Doncaster and covers the East Midlands/Yorkshire region. This year marks her 10th anniversary of working with us. We asked Jo to tell us more about her role and what she enjoys most. A fundamental change we made recently was introducing the 4-day week model, and we were so pleased to hear about its impact on her life. But more on that later; let's start with finding out more about Jo.
What is your current role?
Solicitors instruct us to develop a support and rehabilitation package for their clients with an acquired brain injury. I bring together a team to help the clients live as full and active life as they can. My clients are a broad spectrum of ages, all with catastrophic injuries and mainly brain injuries.
As a Senior case manager, I am also responsible for supervising other case managers. This includes mentoring new case managers and supporting their development so they can benefit from my experience.
What is your background?
I started my career as a Registered Nurse working with organisations such as Sue Ryder that offer neurological support from specialist centres and in people's homes. I hadn't heard of case management then, so I had not considered this role in my career plan.
However, I was approached by an agency that asked me if I would be interested in considering a case management role with AKA Case Management. I did some research about case management and applied. Unfortunately, I wasn't successful on that occasion, but it did spark my interest in case management as a potential for developing my career. I was delighted to be contacted a year later by Angela Kerr, the former MD of AKA Case Management, and offered a case management job.
What's it like working for AKA Case Management?
Since starting in 2013, I have developed my career within AKA Case Management and have taken on more responsibilities. There are several reasons why I find my job so fulfilling.
I feel very supported by everyone, and the senior team genuinely cares about the team's and clients' well-being. It is a safe place to work where everyone's opinions are valued. The senior team actively encourages everyone to be honest and open about ways to improve working processes for the team and services for the clients.
From a clinical perspective, I work autonomously and manage my own workload. This allows me to give each client the time they need without feeling rushed or under pressure. Some clients need a quick visit, which works best for them. Others need more of my time, and if that means spending a couple of hours with them and offering support, advice and listening to their needs, that's fine. I aim to understand each client's needs well and plan my work schedule around that.
Are you part of any professional groups?
I am the Treasurer of the South Yorkshire Acquired Brain Injury Forum (SYABIF) and am also part of the communications group for the Institute of Registered Case Managers (IRCM).
Both groups allow me to meet other professionals in the sector, such as solicitors, therapists, clinicians in the NHS and other agencies. It keeps me up to date with developments in the sector. I value the chance to attend in-person workshops and conferences to share ideas and best practice, with others in case management.
How has the 4-day working week affected you?
It has been life-transforming. I can't say it in any other way; it's a life-transforming change.
I have always worked hard and never thought twice about working on Saturday mornings or answering calls and emails while away from work. I hadn't realised that this meant I never truly switched off and wasn't achieving a good work/life balance.
Moving to a 4-day week has given my life back, and I can spend more time with friends and family. It allows me to switch off completely, so I feel refreshed and ready when returning to work after three days off.
AKA Case Management explored this new way of working on a trial basis to check whether it would work for the team and the clients. Initially, I was worried that I wouldn't be able to get everything done with reduced hours. However, much support was provided, including access to online productivity workshops. These explained how to work smarter within the allocated work hours without compromising the quality of care offered. The workshops are still available to everyone, and I occasionally revisit them when needed.
I wake up feeling so relaxed on Fridays now and always have something planned for the day. Whether that's meeting friends or having a day out sightseeing. I have also started reading again; previously, I didn't have the time, but I regained my love of reading and having time for myself.
In my spare time, I go on walks, spend time with friends and family and go away for weekends. I have gained a perfect work/life balance!
At a recent team away day Jo Simms spoke about the 4-Day Week and the impact on her.
To watch the video, click here on this link.