Come and see us at the BABICM Conference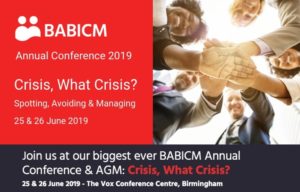 AKA is delighted to be exhibiting at the 2019 BABICM Conference (The British Association of Brain Injury Case Managers) – the 'must-attend' event of the year for all brain injury professionals and experts in litigation, rehabilitation and policy.
This year's theme is Crisis, What Crisis? and an impressive array of keynote speakers will be sharing their knowledge and advice on how to spot, avoid and manage crisis situations of all kinds – ensuring a confident, consistent and professional approach to brain injury and complex case management.
We are looking forward to plenty of peer-to-peer networking in Birmingham on June 25 and 26 as well as taking our place, for the first time, in the exhibition hall with other industry-leading specialists and providers.
If you will be heading to The Vox Conference Centre at Resorts World, please come and find the AKA Case Management stand in the exhibition hall and look out for our entry in the official conference brochure.
Confirmed speakers will include Her Honour Judge Hilder, Senior Judge of the Court of Protection; Celia Kitzinger, Coma & Disorders of Consciousness Research Centre member and Honorary Professor, Cardiff University School of Law; Neil Brooks, Consultant Neuropsychologist and Director, Rehab Without Walls; Alex Rook, Irwin Mitchell Solicitors; Ian Cranefield from Richard Nelson LLP and Rocio De La Cruz of Gowling WLG (UK) LLP.
See https://www.babicm.org/events/babicm-annual-conference-2019/ for more information.