Client News—Wet and definitely wild!
A wet and wild weekend in Weston-super-mare as described by one of our clients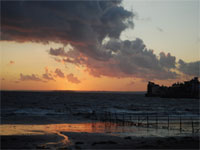 Steve: Greg, my support worker, and I went to Weston-super-Mare for 2 nights camping. However, it only ended up being 1 night camping, as I took the decision to book us in to a local hotel because in the night there was some heavy rain and strong winds.
Apart from the weather we went to Longleat Safari Park and saw various African wildlife. I photographed a 2 humped camel that chased us!!
We also went to Weston and Burnham-on-sea and I took some great photos of evening sunsets. See the one opposite that I took one evening. By the way, Villa lost 6–0 to Newcastle but we won't mention that!!
If you would like to know more about holidays then please get in touch with your requirements! -Email:-wendy@headsupholidays.com