Client News – Fundraising Activities
One of our clients, Rosie, sustained a spinal injury in December 2009 and since then she has been really impressed by how help dogs benefit people in similar situations to her.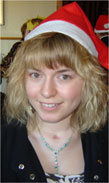 Rosie, along with friend Matt have decided to hold a  fundraising event to raise money for Dogs for the Disabled.  At the end of February, Matt is doing a 10 mile run and 10 mile bike ride. Then, in association with the Shukokai Karate Union, he will complete 100 press-ups, 100 sit-ups, 500 punches and 500 kicks in 3 hours.  Not an easy task!  If you would like to donate to Dogs for the  Disabled as part of Matt and Rosie's event, please visit www.justgiving.com/Rosie-Mayes It will be very much appreciated!