AKA attend the Nottingham Post Carer of the Year Awards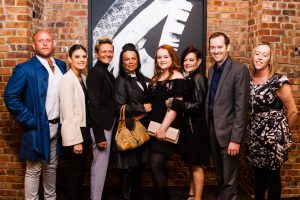 On March 20th 2018, some of the team at AKA Case Management attended the prestigious Nottingham Post Carer of the Year Awards at the glittering ceremony at the Crowne Plaza in Nottingham.
Organised by the Nottingham Post, the 12 separate awards recognise all those people and organisations who excel in the world of care, working professionally and with great modesty across Nottinghamshire. AKA Case Management were proud to be one of the 11 sponsors that supported the awards.
As well as sponsoring the Supporting Independence Award, we also had one of our team leaders, Claire Rhodes-Andrews, nominated for Home Carer of the Year at the awards. Claire was nominated as her professionalism and expertise have proven invaluable for the clients she supports and the team here at AKA Case Management. We are all proud of her for being chosen as a finalist for the award.
Three amazing candidates were nominated for the Supporting Independence Award, but Trevor Warren, an ex-miner who turned to care following the mine closures was presented the award by AKA Case Management's Operations Manager, Andrew Rose.
Trevor was praised for his respectful and quietly confident assertiveness that proved a massive hit at Poppy Fields Extra Care housing team in Mansfield. Trevor was also announced as the coveted Carer of the Year 2018 and walked away with the award.
Overall, the award ceremony truly displayed the wealth of organisations and people across the Nottinghamshire area that are committed to offering care support to the highest standard.
To keep up to date with where we are, what we're doing and job opportunities in your local area, make sure you follow us on Twitter (@AKA_CM) and Facebook (AKA Case Management).