Steve's Story
Hello everyone my name is Steve Rogers and I'm 23 years old. I was 18 years old and I was at University in Sheffield, when a stolen car travelling at 50mph hit me!! I don't know what happened next until six weeks later when I became aware I was at Heartlands Hospital in Birmingham.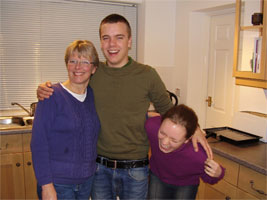 I was not able to speak at all and my whole right side was completely numb and dysfunctional.
The nurses at Heartlands took good care of me. It took five therapists to sit me up on the side of the bed, at first.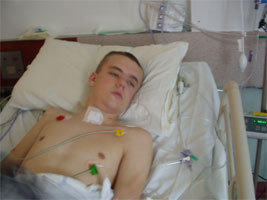 Next I went to Mosely Hall Hospital where I was allowed to go home at the weekends which was good. I was sleeping downstairs at home because I wasn't very mobile.
I had lots of physiotherapy, speech and language and occupational therapy on weekdays. Physiotherapy was hard work and still is.
My speech and language has advanced over the 4 years but I still have problems explaining things sometimes. I finally came home on the 17th February 2006. In June 2006 I had a titanium plate fitted in my head. I had 55 staples in my skull, it looked like a zip. It really hurt!
I then became an outpatient and I was on my own. I had lots of things happening. I started debating classes, outdoor mobility, numeracy and others as well. My pathway to independence was beginning to appear. When I finally finished Moor Green, Kaida from AKA, started working with me. We went swimming, gyming, shopping, and I went on the buses.
I've started going to college to do photography which is cool. Kaida helped me settle in and now I'm enjoying myself and the class is good. I went to London on the photography trip to see lots of exhibitions.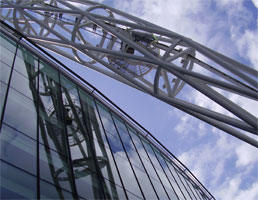 Kaida was promoted within AKA so Greg came in to replace her. Sadly Greg is a Birmingham City supporter, but we've all got our problems. Greg is now my support worker.
I have always liked to go to gigs and recently I went to see Rise Against at the Academy in Birmingham and I met the band which AKA organised. They dedicated a song to me "Swing life away" – It was awesome!
Recently I went to Green Day with my friend Rob who works for AKA as well. I've got a season ticket for Aston Villa 2009/10. I love football and my best player is Brad Friedell.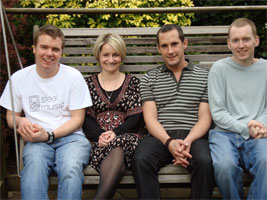 That's it for now………………..
Just looking forward to having lots more fun so see you later Alligator, in a while Crocodile.
Steve Rogers