Rachel's Story
Before my RTA, in 1999, I'd hardly done any travelling. I'd gone to Austria and France with school, and gone to Jersey for my honeymoon, but apart from that – nothing. Then in 2001 I went to Madeira with my parents and Dan – my husband. That gave me the travel bug. Wheelchair – no problem, if I could get to Madeira I could get anywhere.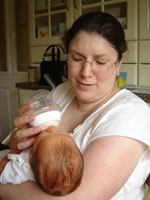 So the year after I went to Guernsey, with Dan and Ash – my assistance dog. We got here on the Saturday night. On the Sunday morning the hotel burnt down. Really. I'm not joking. It was the worst fire in Guernsey for 14 years. That put me off holidays for a bit. Instead of going on holiday, I researched holidays for wheelchair users in Africa, somewhere I'd always wanted to go. After 2 years of chatting to holiday providers on e-mail, 2 years of reassurance, and we went, in September 2006.
We spent 14 days there. We went to the Kruger National Park for 4 days, and spent 4 days in a private game reserve. Then we spent 6 days in Johannesburg. We had such a truly wonderful time that in May 2007 we had to go back!
This time we spent 5 days in Cape Town, 1 day in Johannesburg, 4 days in the Kruger National Park and then back to the same private game reserve for 4 days. I can only say that the pictures you see on the TV do not do Africa justice. It is a fantastic place. I saw lion, hippo, rhino, elephant, leopard, wild dogs, jackals, hyenas, crocodiles, vultures, kingfishers, warthogs, baboons, monkeys, lizards, porcupines and a creepy white tree frog!
The most fantastic thing I saw, in the Kruger, in 2006, was a Sable. It is the most beautiful elegant animal. Alfie, our guide, said Sable are really rare, and that we were lucky to see one. In the game reserve I had close contact with a lion called Chobie, a cheetah called Savannah, and an elephant called Becky who ate from my hand. Then we went to visit and a hippo called Jessica.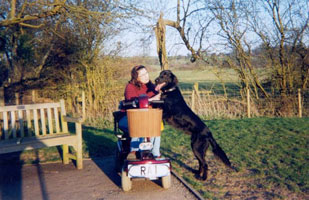 Jessica was the best bit of the holiday for me. I'm partially sighted and so missed some things in the Kruger and on the reserve. But no one can miss seeing Jessica, a 6 year old hippo, as she drinks from a bottle which you hold in your hands. Jessica drank with such gentleness as I stroked her head, which she was resting on my knee.
I just want to say it can be done, and I am definitely a better person for doing it. We'll definitely be returning, as we haven't yet done Cape Town in spring to see all the flowers; or the Garden Route along the coast; or Johannesburg to Durban. And besides all this, I need to see Jessica again!
Who would have thought a head injured, partially sighted, disabled person could go on a safari? Well, now I would!
Prior to my accident I was a teacher. The injuries I suffered did not change my desire to be with children despite the fact all the experts said I would never get pregnant.
Two years after my return from Africa "the stalk flew in" and William arrived. Life has never been so tiring nor so wonderful.
Of course this does mean there will be three going back to Africa!
Rachel