A trip of a lifetime
For many, travel to China is the fulfilment of a dream.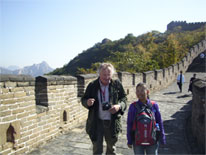 The chance to explore the Forbidden City, home to Chinese emperors and their concubines over the centuries; to gaze in awe at an entire army of Terracotta Warriors and to walk proudly on a Great Wall that stretches for over 4,000 miles. Right: Charles at the Great Wall
For Charles it was a dream that he had had since he was 7. So, in October 2010 he packed his bags and boarded a flight with his team for a two week tour of China, and all the glories that it holds.