Socialising, Sun and Sausages
The summer sun encouraged lots of socialising within our team over the past few months.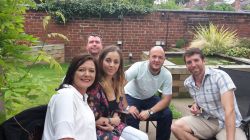 At our Home from Home, Auckland Road, lots of effort and organisation went into hosting a BBQ night for all our clients and support staff, and what a success it was. Everyone went home full and happy after a great evening socialising, and we are planning new socialising opportunities that we can host there. Hats off to Claire Rhodes-Andrews for gathering the troops and making it happen.
Another foodie event that we held this summer was a picnic at Clifton Park in Rotherham for all our clients, friends and AKA staff to enjoy on a sunny Sunday afternoon. Not only was the weather kind to us that day, but there was 'lashings of ginger beer' enjoyed to help the food go down nicely!