Gillian Crooks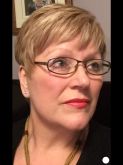 Gillian is a real all rounder and has had her fingers in many pies, from being an Auxiliary Nurse, Police Officer, Motor cycle instructor to a Power lifter!……there is nothing she can't do.
Gill's experience in care comes from nursing her first husband back to health after he developed a brain tumour and latterly caring for her mother, full time, who had a stroke.
Gill is a very energetic and enthusiastic person. With 2 grown up children, 2 grandchildren and 4 dogs all demanding her love and attention she never stops.
To relax Gill enjoys walking, sewing and painting.